Android Games Mini Reviews – Part 1
Been playing a lot of android games recently (mostly games that catch my attention while i'm on a downloading Spree :)). During that furious period, i usually install and uninstall a lot of games, some of it turned out to be interesting & some, not so. So i decided to post about some of my observations, opinion or mini-review or whatever on my blog so that those looking for games on the ocean of play store can find something interesting quickly. Here we go. Ratings are kind of approximate.
 1. Ascend (by True Banana) – 3.25/5
Why ? Screenshots about swinging, swinging mechanics
Plus – Gameplay is good & new (haven't played the games that inspired it), controls feels fluid enough. Hitting Effects are good.
Minus – UI felt non intuitive, felt slight lag in swinging mechanics.
 2. BlockX3 (by NoodleCake Studios) – 3.95/5
Why ? Nice Icon, Puzzle Game, Cool Colors
Plus – Nice UI, Color, Music, Nice Subtle effects, Simple controls, Good for touch.
Minus – Splash screen too much time (maybe they are loading, but could've added a loading text), slightly repetitive levels, some levels too easy.
 3. 7×7 (by Kiip inc) – 3/5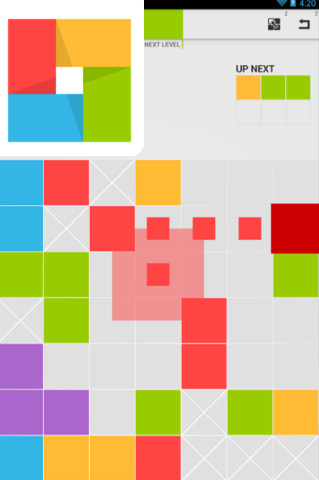 Why ? Less Size, Minimal, Icon, Puzzle
Plus – Minimal, great colors, aesthetics, good indication of not movable blocks.
Minus – No sound, gameplay not intuitive for me.
 4. Gear Jack Black Hole (by Crescent Moon Games) – 3.75/5
Why ? ICON, Runner, Tagline etc
Plus – Graphics is cool, Parallax scrolling, straight into game, some twists on runners using portals etc
Minus – Jumping mechanic kind of stuttering sometimes
5. Soccer Physics 2D (by Nebugo) – 2.5/5
Why ? B'cos original soccer physics (which is so cool & funny) is not on Android, have to try this clone.
Plus – SP on Android(kind of achieved much of original gameplay), now not available in Google play (Google search it)
Minus – Not as good as original, felt kind of ripoff
That's all for now. Will post the next part soon. Let me know your comments, if its helpful.